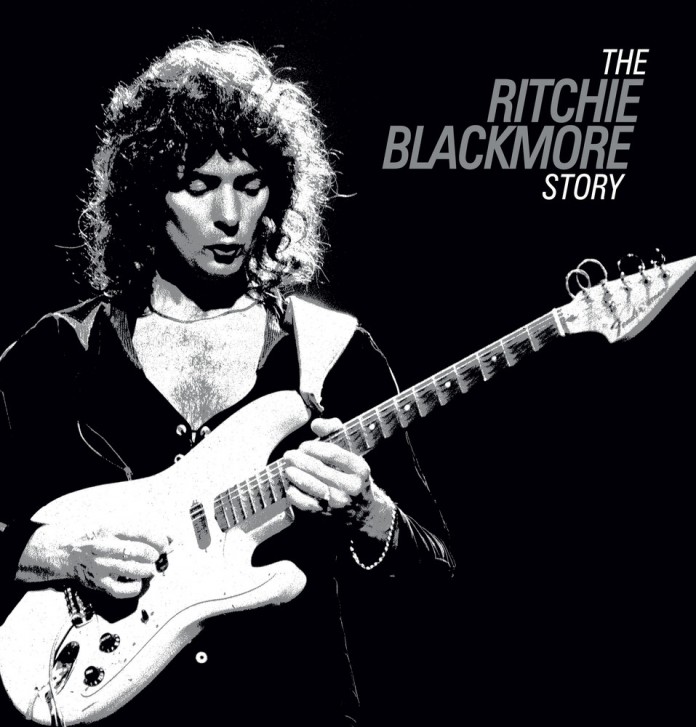 Esce il 6 novembre il documentario ufficiale The Ritchie Blackmore Story. Edito da Eagle Rock Entertainment, il documentario uscirà in DVD, Blu-Ray e in versione Deluxe.
La Deluxe edition conterrà due DVD, due CD e un libro fotografico: il primo DVD con il documentario standard; il secondo DVD con l'intera performance dei Rainbow in Tokyo nel 1984; e il doppio CD con la versione audio dello stesso concerto giapponese; il libretto fotografico è un booklet di 60 pagine in formato 12×12 pollici.
Il documentario
Stando al comunicato stampa di Eagle Rock, il contenuto principale di The Ritchie Blackmore Story è una retrospettiva sulla vita e sulla carriera dell'ex chitarrista dei Deep Purple: partendo dagli inizi pop degli anni Sessanta coi The Outlaws e con le varie sessioni di registrazione come turnista; passando per gli anni di gloria con Deep Purple e Rainbow; fino all'avventura dei Blackmore's Night.
Il documentario include interviste e contributi di Jon Lord, David Coverdale, Glenn Hughes, Joe Satriani, Joe Lynn Turner, Graham Bonnet, Brian May, Lars Ulrich, Steve Lukather, Gene Simmons, Steve Vai, e Ian Anderson. Nel materiale bonus ci sono più di 40 minuti di interviste aggiuntive con lo stesso Blackmore e col suo entourage.
Il live dell'edizione Deluxe
L'edizione deluxe del cofanetto (2 DVD + 2 CD + libro fotografico) contiene la prima edizione ufficiale del Live in Tokyo, ossia la registrazione del concerto dei Rainbow al Nippon Budokan di Tokyo del 14 marzo 1984. Si tratta dell'ultimo concerto in assoluto dei Rainbow degli anni Ottanta, prima che Blackmore e Glover – che allora faceva parte dei Rainbow – prendessero parte alla reunion dei Deep Purple.
Alcuni brani di questo concerto erano già stati inseriti nella compilation ufficiale Finyl Vinyl dei Rainbow.
Il live intero, originariamente registrato e trasmesso dalla televisione giapponese, gira da parecchi anni in edizioni semi ufficiali (mai approvate da Blackmore), sotto il nome di Japan Tour 84, Live in Japan, The End, e Live at Budokan. Quella inclusa nel cofanetto di Eagle Rock è una versione del tutto ufficiale, anche se non è chiaro se audio e video siano restaurati dai nastri originali.
Lineup
Ritchie Blackmore (chitarra)
Roger Glover (basso)
Joe Lynn Turner (voce)
David Rosenthal (tastiere)
Chuck Burgi (batteria)
Tracklist
CD 1
Intro Medley
Spotlight Kid
Miss Mistreated
I Surrender
Can't Happen Here
Catch The Rainbow
Power
Keyboard Solo
Street Of Dreams
Fool For The Night
Difficult To Cure (Nona di Beethoven)
Guitar Solo
Drum Solo
CD 2
Blues
Medley: Stranded / Hey Joe
Death Alley Driver
Fire Dance
Maybe Next Time
Medley: All Night Long / Woman From Tokyo
Lazy
Since You've Been Gone
Smoke On The Water
Ordina The Ritchie Blackmore Story