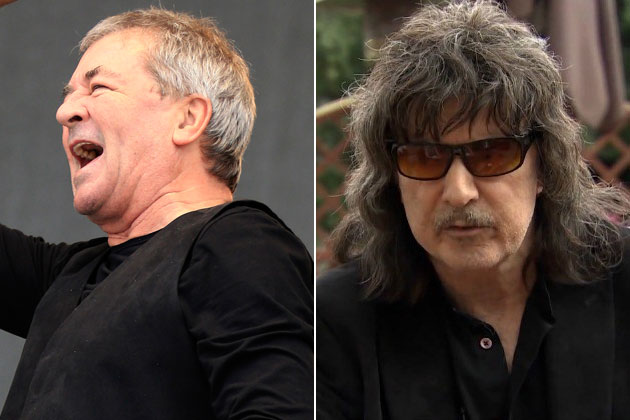 Il presentatore e comico inglese Ian Danter ha confezionato una parodia di Perfect Strangers, in cui Ian Gillan parla del ritorno al rock di Ritchie Blackmore. Lo spezzone è andato in onda il 18 settembre durante la prima trasmissione di Danter su Planet Rock radio.
Il brano è una versione ri-cantata di Perfect Strangers, e si intitola Total Strangers, perché nella canzone Gillan afferma che Ritchie si circonderà dimusicisti completamente sconosciuti – Tutti gli altri sono stati licenziati "prima ancora che suonassero il secondo verso di Lady of the Lake".
Altri passaggi divertenti sono quando la parodia di Gillan afferma: "Se solo proverà a chiamare Ian Paice per la sua band, giuro che gli spacco l'asta del microfono in testa".
E quando la nuova lineup dei Rainbow viene presentata a Gillan, e gli viene chiesto se pensa avranno un futuro, Gillan risponde: "Gli arriverà il P45 già domani" (cioè, verranno licenziati).
Il tutto si conclude con Blackmore che chiede a Gillan di smetterla con le urla da gallina su Child in Time.
Eccolo da ascoltare. L'abbiamo trascritto, ma non tradotto, perché perderebbe di comicità.
Total Strangers
Can he remember, remember any of his songs?
He's got permission from his wife
A thousand folk songs they have made
He's cold. Such a cold hearted man
I bet your life
He wouldn't think to sack his gran
His band's returning
Playing Highway Star and Child in Time
But what musicians will we see
A thousand members I have known
I am laughing
But if he calls Ian Paice
I tell you
If he calls him
I swear on my life
I'll smack my mic stand in his face
If Ritchie says he's formed a classic band
You've got to understand
He'll just be on stage with
Total strangers
You are wondering who is on bass up there? Well, that's the bloke who played the first verse of Lady of the Lake, I think. Sacked. Yes, sacked before the second verse.
And on drums? It can't be, can it? No, it can't. That's actually the fellow who played the single cowbell hit on Stargazer. Sacked, before we put the cowbell down.
If you can't place the keyboard bloke, well there's a good reason for that. Blackmore spot him in a British Legion club last week, apparently.
Still: a decent lineup all the same.
Do you think they've got a future, Mr Gillan?
I know the lots of them will get P45s tomorrow
Ian look, it's Ritchie. I'll let you sing Child in Time, but don't make those ridiculous chicken noises like before, will you? No, that's what I mean, don't make the chicken noise. No, no no. I can't work with you.